See also my full profile at http://usa.myclasses.co/educator/W2xiV/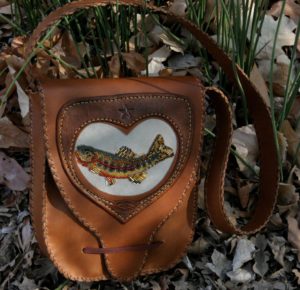 Annie Margarita artist in residence
is the Artist in Residence at the McKenzie River Inn and the Artist Retreats is her brainchild.
Annie is a very experienced artist in the creation of sets, murals, fine art and leather construction. Currently enrolled in college full-time to learn film production and animation.
Annie had been a professional artist since 1993 when she got out of the Marine Corps and went to Florida to work in the theme parks as a scenic artist. She worked all over the U.S., Portugal and Holland building aquarium, museum and zoo exhibits. After getting injured in Holland, Annie went back to Tucson to recover and ended up starting her own mural company which later lead to a degree in Interior Design and a contracting company for paint and murals.
She joined up with Project Healing Waters Flyfishing, a Veteran supported national club. Learning how to cast better, tie flies, and build a fly rod, which then lead to want to build a fly rod case out of leather. Annie found that leather was her favorite medium and started creating cases, handbags and other accessories. She sold online and that opened a brand new direction for her. Annie packed up everything, bought an RV and took off out of Tucson to find all the rivers that she heard of. After being out for about a year and a half she went to Pendleton, Oregon for it's annual leather convention. She started working in Monte Beckman's saddle shop, to learn pointers from the Master and work on her products. He decided to consolidate his two shops and then Annie had the opportunity to rent his old shop at 141 S Main Street January 1, 2015. She did a lot of remodeling, built inventory and opened shop in May, 2015.
Fortune turned a weird head, and she was offered a full scholarship to attend the University of Oregon from the Veterans Administration. She moved to McKenzie River Inn in September 2016 and started classes for Animation and Film.
"I find new inspirations for my artwork and leather wherever I go, I get to meet great people and be who I want to be. Please come visit when you are in the area! Maybe we can tie some flies and I am happy to point you in the direction of good fishing! Big hugs!"